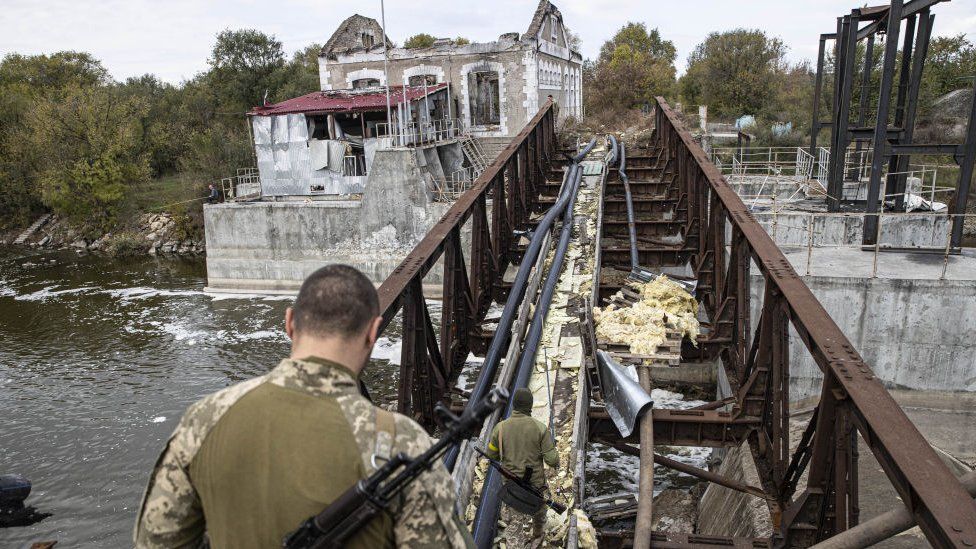 By Paul Kirby
BBC News
Russian officials say they have completed an operation to move civilians out of the occupied southern city of Kherson ahead of an expected battle with advancing Ukrainian forces.
At least 70,000 civilians are said to have crossed to the left (eastern) bank of the Dnipro river, in what Ukraine has called forced deportations.
"We're preparing Kherson for defence," one Russian militia commander said.
Meanwhile, Russia said it had mobilised the required 300,000 reservists.
Defence Minister Sergei Shoigu told President Vladimir Putin that 41,000 of those called up had already been deployed to the battlefield in Ukraine. The numbers have not been independently verified.
The minister's comments come amid growing public anger across Russia over the mobilisation drive.
Soon after launching a full-scale invasion of Ukraine on 24 February, Mr Putin pledged that only those on contracts with the armed forces would be sent to fight in Ukraine. But in September he was forced to order a partial mobilisation, following a string of military defeats.
Ukraine's southern Kherson region was one of four areas of Ukraine declared annexed by Vladimir Putin last month, despite Russia not having total control of any of them.
Kherson city was captured shortly after Russia's invasion began – but in recent weeks Ukrainian forces have steadily recaptured territory on the west or right bank of the Dnipro. The front line is 30km (18 miles) away from the city, according to Ukrainian officials.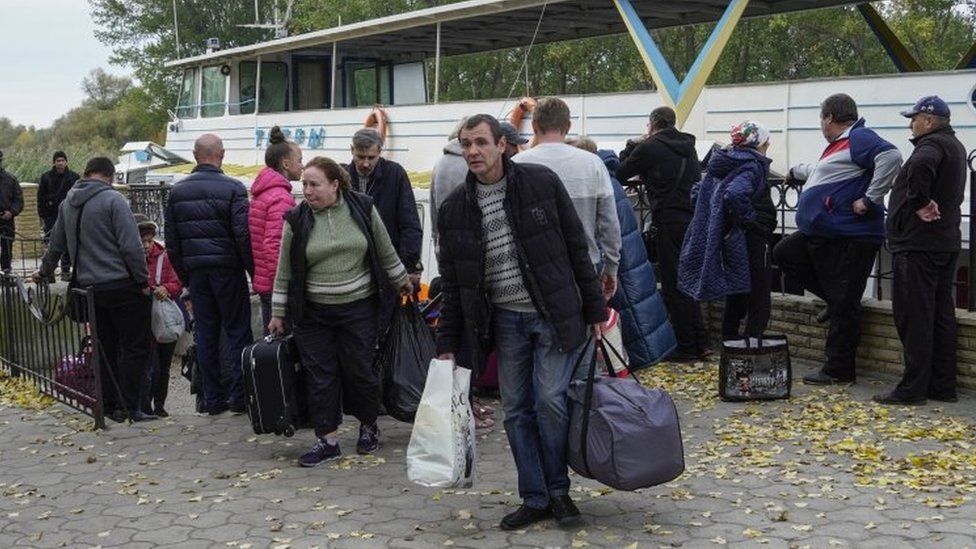 Russian-installed officials have warned of an assault on the regional capital in the near future. However, Ukraine's defence minister, Oleksii Reznikov, has described the counter-offensive as really difficult because of the tough terrain and rainy weather which make it harder to use fighting vehicles with wheels.
The man installed by Russia's occupying authorities in annexed Crimea, Sergei Aksyonov, posted pictures of the bank of the Dnipro on Thursday night, during a visit with a leading figure in the Kremlin, Sergei Kiriyenko.
"The work on organising the departure of residents has been completed," he announced. Occupying authorities say they have been moved to "safe regions of Russia", which include other areas of Ukraine under Russian control but also, reportedly, Russia itself.
Russian militia commander Alexander Khodakovsky said: "We're taking the civilian population out, in many ways untying our hands."
The deportation or transfer of civilians by an occupying power inside or outside the occupied territory is considered a war crime.
Another Russian-appointed official admitted that many civilians had stayed. Vladimir Saldo, installed by the Russians as governor of Kherson, said 150-170,000 people were still in and around the city on the right (western) bank of the Dnipro river. The pre-war population of the city alone was some 300,000.
Ukraine's officials have questioned the numbers given by the Russian occupying authorities.
One resident told the BBC last week that no-one was going anywhere and that Russian soldiers were worried how they could survive in Kherson city.
One of the most hardline backers of the war, Chechen leader Ramzan Kadyrov, admitted that a Chechen unit had suffered "big losses" in the region this week. He said 23 fighters were killed and 58 others were wounded in a Ukrainian artillery attack, but went on to claim that his forces had killed many more Ukrainians.
Ukraine's regional leader in Kherson, Serhiy Khlan, said Kadyrov's men were being replaced by recently mobilised soldiers. Fields around the regional capital were being mined, he said, and the new recruits were now acting as Russia's first line of defence.
Ahead of any battle for Kherson city, Ukrainian officials have suggested that Russia has withdrawn its occupying authority to the town of Henichesk, some 200km to the south-east.
Ukrainian military spokeswoman Natalya Humenyuk said the Russians were trying to hold on to the right bank of the Dnipro, but the fact they were preparing to defend the other side of the river too was a "telling sign they understand the real situation – that they are unlikely to hold on to the right bank".